Our Clean Room Manufacturing Department has grown and we have new colleagues!
We want to welcome all new colleagues to Arctic Biomaterials!
This time we highlight the newest member of the team, Inka Heinänen. Heinänen has experience with Finnish high-tech companies, which is beneficial in her role at ABM Composite. "It is fascinating to work with innovative materials like we do here at ABM. I can utilize my expertise from the technology industry, which helps me to learn the uniqueness of the material and medical device industry fast," Heinänen says.
Arctic Biomaterials provides ISO Class 7 clean room manufacturing for bioabsorbable implants. All manufacturing and R&D services are carried out under a certified quality management system in accordance with the ISO 13485:2016 medical device standard.
More information about our Clean room manufacturing services here or orders[at]abmcomposite.com!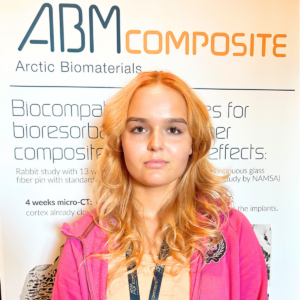 Inka Heinänen, Arctic Biomaterials